Egg Donors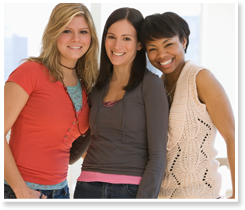 Thank you for your interest in participating as an egg donor through the Heartfelt Egg Donation Program. By considering our agency's Egg Donation Program, you are taking the first step in helping someone have a child.
If the process of egg donation is new to you, you may wonder why women turn to egg donors to help them have children. The most common reason is due to the woman's age and the decreased quality of her eggs. Some women enter into early menopause and they stop producing eggs. Another reason may be due to cancer and chemotherapy treatments that affect a woman's fertility. There are other women who have had to have their ovaries removed. No matter the reason, the notion of not being able to have one's own genetic child is a devastating one. By donating your eggs, you can help individuals and couples have the child they've always hoped for.
Our application and screening process is extensive. This allows us to ensure we are finding the right donor candidates for our program. The process of egg donation is not simple yet it can be extremely rewarding for all involved. We will support and guide you through the entire process.
The following criteria is necessary in order to become an egg donor through the program at Heartfelt Egg Donation:
Ethical, honest and caring.
Responsible and committed to helping those who require an egg donor.
Between the age of 20 and 29.
In good health and lives a healthy lifestyle.
Healthy BMI (Body Mass Index).
Non-smoker and does not use illegal drugs.
Not currently on the Depo Provera shot, Norplant or using a hormonal IUD such as Mirena.
May be willing to speak with and/or meet Intended Parents.
Able to provide health history and genetic background.
Willing to undergo medical and psychological screening.
Willing to be available for 6-8 weeks, attend approximately 10 doctor appointments.
Willing to perform self-administered injections for a period of approximately two weeks.
Willing to undergo a procedure via sedation to retrieve eggs.
May be willing to travel.
The act of donating your eggs is an exceptional and profound gesture of compassion. We appreciate you taking the time involved to be part of this wonderful experience.
Suzanne Myers
Founder & Director
Heartfelt Egg Donation, LLC